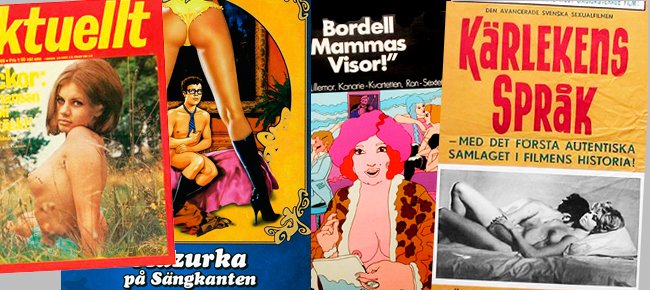 In Hannes Holm's nostalgia movie Behind Blue Skies, Martin (Bill Skarsgård) gets a summer job at a sailing hotel in Sandhamn and moves into a room in the staff wing. There's a centrefold pinup on the wall. Of course. It is 1975. We are in the middle of the decade that the magazine Neo last winter called the "porniest" ever. The 1970s' bad, or enticing, reputation as uninhibited and sex-crazed must be modified. Casting back one's mind, or checking the archives, you can certainly find plenty of examples of attitudes to sex, porn and prostitution, which today seem hopelessly naïve or cynical, or possibly both. So, for example, DagensNyheter (DN) in its trade and business sections in January 1975 introduced an industry analysis where the value of the Swedish sex market amounted to around 500 million Swedish kronor per year. It was divided into a number of "product lines" (the magazine itself put quotation marks around the word), which included even "posing studios and prostitution". The main interest in the story, which was written by stock market analyst Sven-Ivan Sundqvist, however, was directed towards "the sex cabaret Chat Noir" – part of the territory of Danish porn entrepreneur Ulrich Geismar's empire in Stockholm. The club was described as something of a design company. The furniture came from NK Interior. The "hyper-modern stereos" played Mozart and Bartók. Since 1972, 600,000 Swedish kronor in personnel taxes had been paid. The company offered free personal residences. "The artists" had a shower room and TV room and got decent pay. According to the president, one live-show couple, "i.e., a man and a woman who have sexual intercourse with each other on stage", got 150 Swedish kronor a time. Operations were conducted in a peaceful and orderly way, testified DN. The employees, although not unionised, but in return "corporate hospitality" at the club was "deductible". In conclusion: even private parts were a part of business life. Inserted in parentheses in the story, however, was that Chat Noir, after all, was not quite like other companies: "An interview was interrupted when a couple came up and test slept with each other for president." That old DN article confirms, in all its hard-won objectivity, Neo writer Martin Kristen's picture of the 70s as a totally voyeuristic and tit-crazed time wallowing in porn magazines and nude musicals and did not even balk at letting James Fjong and Ulf Brunnberg inflate the bicycle tyres. But how exceptional was it really? Are there no cartoon characters that have sex with each other today? Are there never actors naked on stage these days? Is it difficult for teenagers to get hold of pornography? In the 70s it was difficult. It is a paradoxical truth. During the "porniest decade" porn-hungry teenage boys hung around the surrounding building sites, hoping to find forgotten porn magazines. (I cannot remember why construction workers were believed to be heavy consumers of porn). Buying magazines yourself? You dared not. Despite Johnny Bode and his Brothel Madame's songs, porn was nothing to flaunt, even in the 1970s. The old shame lingered and had already been supplemented with the new. Porn was not just dirty. Porn had become dirty in the service of capital. In an old, worn photo album I have some faded colour pictures taken at the combined Left's big May Day demonstration in Stockholm in 1972. One of the photos shows a group of young women demonstrating with a banner reading: "Fighting for women's liberation". Here a poster with the text: "Right of painless childbirth". On another you can read: "Death to duplication of work." A third poster, dominated by a cartoon of a naked woman with excessively large breasts, bulging red lips and a goofy expression. The body is angrily crossed out. Even then, in the early 70s, pornography was on the verge of being redefined as no longer a liberating force, which should be affirmed by all political radicals; it was rather a repressive force, which must be fought by all who considered themselves politically radical. Ten years earlier, in the early 60s, the young subversives (they were called 'young liberals') made pornography an ally in the war against a morally hypocritical, mendacious and suffocating authoritarian culture, represented by the church and state. The struggle for sexual freedom – and that was not just about the right to consume pornography, but also about the right to abortion, contraception, sex education in schools and sex outside marriage – was a logical concretisation of the enlightenment project's emancipatory ideals. The individual would not only have the freedom to think, research, compose and act politically. She would also have the freedom to enjoy. This formula, the "Freedom to enjoy", is the title of historian of ideas Lena Lennerhed's basic thesis of "the sex debate in Sweden in the 60s", published by Norstedt in 1994. Lennerhed highlights here the central role the young liberals, in the Liberal Party's youth organisation FPU, played in the early 60's sex and morality debate; she mentions names like Gabriel Romanus, Margareta Holmstedt, Staffan Thorsell and Hans Nestius. Formally independent from the Liberal Party, Sweden's Liberal Students Association took on the sex questions on its own initiative; the point of departure for this was, emphasises Lennerhed, a consistent relativistic and individualistic approach to ethical and aesthetic values. In line with this basic attitude, the Liberal Student Club in 1964 a much-discussed conference on "Sex and Society" in Stockholm, where, among other things were shown a pornographic movie. The liberal students in Lund went a step further and held a "sex party" in the Academic Society. Lennerhed's book also shows that there was direct contact between the young sex-liberals and representatives of the burgeoning sex industry. Porn publisher Curt Hson Nilsson gave a talk in 1967 at the Liberal Student Club in Stockholm and also advertised in the club's own journal NB. Among other things, he called for an employee: "Do you have the itch to write? Piff, Paff and Raff need unabashed modern writers with feeling."
In retrospect, it may look as if you young liberals' sex evangelism received a powerful response. In a few years it transformed Sweden to "pornography's promised land", at least if you believed the headlines. Literature paved the way. Film broadened the way to a 'sin motorway'. As early as 1962, the journalist Kristina Ahlmark published a pamphlet Virgin Faithand Double Standards. The book was, not least thanks to the formula "sex for friendship's sake", a scandalous hit and was filmed with Harriet Andersson in the lead role. The big breakthrough for sex stories between the covers came in 1965, with Malmo publisher Bengt Forsberg's anthology Love 1. There were contributions by serious writers like Bengt Anderberg, Anna Karin Svedberg and PC Jersild. Sales were formidable. As early as winter 1967, the first parts of the Love series (the project was discontinued after Love 14) had sold around a million copies in Scandinavia. Filmmakers caught on, of course with social criticism or sex education as a genuine or sought basis for legitimacy. Vilgot Sjoman's Curious Films premiered in 1967 (Yellow) and 1968 (Blue). The how-to film Language of Love was released in theatres the following year. One year later, the Danish Mazurkaat the Bedside filled movie theatres. No longer were alibis required. 'Happy Porn' was an established entertainment genre. For a number of years, say from 1965 to 1971-72, porn was something that spirited and courageous Swedes were expected to affirm and be curious about, somewhat in the same way as they were expected to be pleasantly curious about a new cake mix in the supermarket. In September 1967, the Kvällsposten(KvP) reported that the nightlife in Malmo had "become a sensation richer". On Friis Street, a porn store showed free sex movies at night, with the crowds that followed: that night KvP was there, and we met to our great surprise also some middle-aged ladies who came directly from handicraft group. "Hurry up Elsa. Now we're going to watch porn", acknowledged one of the ladies, waving encouragingly with an umbrella. And with handicraft over the arm they followed us into the store where a dozen people almost with reverence watched how the four people on screen undressed so that the clothing rags smoked.
Did the 'sexual revolution' lead Swedes to have more and freer sex? Surely. But it was probably only to a modest extent to the credit of the young liberals and porn publishers. More important were the pill, abortions, antibiotics, urbanisation and women's entry into the labour market. Pornography was at most the foam on the surface. The major thing that was happening was that you could now live out your sexuality without risking irreparable harm 'by accident'. It was this that was the real sexual revolution. It was kept alive even during the years of the 70s, when pornography and sexual liberalism become inopportune. In a fascinating way, the sexual interest of the 1960s could be linked to the Swedish welfare state project; just as in other areas related to this that both raised the general standard of living and distributed welfare benefits more equitably. This ideological goal would be reached with the help of modern technology and training initiatives. Clitoral stimulation would push up production of orgasms and lay the foundation for greater sexual equality. It is assumed that the clumsy men soon formed. On reflection, it is perhaps more accurate to speak of the Swedish 'sex reform' than 'sex revolution'. Reform efforts in the ordinary and real Sweden also continued, as far as I can understand, with unabated zeal and enthusiasm, even during the years of the 70s, when pornography was banished to the dark corners of Klara Norra Kyrko Street in Stockholm and Andra Lång Street in Gothenburg. Opinion leaders of various colours have always loved to discuss porn, and still do. But for obvious reasons – we convince ourselves of the notion that newspapers, books and films exert a decisive influence on people's mindset and lifestyle – we have a tendency to overestimate the role of pornography in people's actual sex life. If the 60s and 70s really was a period marked by sexual curiosity and desire to experiment, it depended less on popular opinion about porn and more on that we lived in a happy innocence where sexuality, for perhaps the first and last time in human history was, or was thought to be, risk-free. It was the 1980s' AIDS emergency, rather than the 70s' anti-porn activism that put a stop to – if that was indeed what occurred – the more popular licentiousness of the 60s. Right at the beginning of the 80s, I worked for three-quarters of a year as a reporter at Lektyr, the men's magazine. It was not entirely refined, but yet not obviously socially suicidal. Jan Guillou, all young male reporters' idol, had once worked at FIB-aktuellt, and men's magazines still had a large and wide male readership, which was not always dressed in a raincoat. Lektyr's circulation was, I remember, steady at over 100,000 copies. That I still resigned relatively soon was for several reasons, one of them being that I realised that this was not the future for someone who hoped to live a respectable reporter's life. The magazine was quickly becoming a press pariah, and it was because of the porn. Pornography kept the circulation up, but at the same time made it impossible to make a decent connection. To maintain circulation, many saw that men's magazines were systematically marginalising themselves. That was the paradox.
One can, in old newspaper clippings, follow how the attitude towards porn is changing in the Swedish debate, from the wide-eyed affirmation of the 60s, to the indignant repudiations of the late 70s: "The sexual liberation of the 60s became the hangover of the 70s", proclaimed Expressen in a full-page headline in June 1978. The article was written by Maria-Pia Boethius and began with an analysis of the situation: "People have begun to see through the industrial sexuality. Porn magazines, men's magazines, prostitution, porn movies and porn clubs did not have much to do with people's own sexuality. It is a cruel and lucrative way to profit from the people's uncertainty and distress." The keywords here are "industrial sexuality", "lucrative", "profit". It is tempting to interpret the rejection of pornography that emerged in the 70s as a result of the new women's movement's successful advocacy. And of course, the feminist activists' analysis of pornography as an expression of patriarchal exploitation of the female body strongly contributed to disavow 60s' sex-liberalism. But one cannot ignore that an even more general political paradigm played an important role. In the shift between the 60s and 70s, socialism gained a hegemonic position in the Swedish public debate. The state and capital, no longer the state and Christianity, were now the main opponents. Pornography was no longer seen as a cultural manifestation that was oppressed by a bigoted establishment. Instead, pornography was a textbook example of how people's true needs were reified and perverted by the capitalist mode of production. Goran Shooter wrote toward the end of the 70s a series of articles in The Work, with a typical headline being: "Porn's Profiteers". He concentrated on where the hardcore porn was marketed in specialty shops and through mail order. There was little originality. The political porn-resistor's favoured peeve was the so-called men's magazines. The reason was simple: Lektyr and FIB-aktuellt were issued by major press groups, and were worthy foes to the Swedish revolution than a bunch of seedy porn peddlers with photo studio in their back pocket. Bonnier was the enemy then, as always. In the 1930s, Swedish Nazis called for ruthless struggle against Bonnier's dirt literature. Now, cheered the Swedish Left of the 70s when Fria Proteatern, in their Bonnier opera, presented Lukas Bonnier as "Lucke Pimp". On one hand, collectivism and moralism, on the other hand, individualism and relativism. One might think that light-years separated the 70s' puritan Left from the 60s' sex-radical young liberals. But there was one common denominator: the dream of the authentic human, the belief that the human is fully able to be herself if, and only if, society fundamentally changed. The young liberals, referring to sex researcher Kinsey, argued for a society without taboos. The 70s' Left quoted Marx and fantasised about a society without class. Both of these utopias could fit under the big Swedish cultural umbrella: the at once romantic and engineering rationalist Swedish cult of modernity. It combined a deep reverence for all that is perceived as authentic and natural with a penchant for the knowing, practical and large-scale structured. The Swedish modernism's golden moral rule is: there should not be any difference between form and content, surface and bottom. Fake facades will be torn away. Everything should be monolithic or transparent. The sex-liberals were sex life's equivalent to the welfare state's functionalist architects. Everything old would be cleared away and replaced with new, sensible forms that made it possible for all people to live a wholesome and healthy life in simple honesty. The 1970s' Marxists thought of something similar, but were on the theoretical plane more interested in economics than eroticism.
"Completely normal, completely normal!" was the mass media's experts' Inge and Sten's advice to all men who anxiously confessed that they got an erection from liver pâté. The message was in line with sex-liberalism's 'out with all prejudices', 'let a thousand variants flower' ideology. But in practice, it was a more narrow idea of naturalness that pervaded porn's breakthrough. Heterosexual genital intercourse was sex life's 'vanilla'. It also characterised the era's newspapers. Over ten years ago, the media researcher Anja Hirdman defended a dissertation in which she studied how the image of men and women in Veckorevyn and FIB-aktuellt changed from 1965 to 1995. When I flip through her Appealing Images (2001), I am struck by how the sky really was innocent blue during the first years of the 1970s, also in FIB-aktuellt. The half-naked women on magazine covers are, as Hirdman stresses, often photographed in the wild, on a cliff by the sea or a beach on a lake. They smile. A gentle breeze ruffles their long hair. It's summer. The world is like it has been freshly washed with Timotei shampoo. "Then Bengt Anderberg and other commentators in 1965 spoke of natural sexuality, which appears now, embodied in the sensual Swedish summer girl we see on the cover art and inside the magazine," writes Hirdman. The sex-liberals had in mind the taboo-free society: a summer where naked bodies rolled around in the sun. It didn't happen. Fortunately, it was almost nothing like the intellectual mind conceived. The 1970s proved to be not only the decade of political Puritanism, but also that of commercialised hedonism. The right to enjoy? You asked for it! The masses and market forces staged a lustful, pleasure mutiny. The new, fine concrete suburbs were abandoned in favour of the less vulgar villas with saunas and swimming pools. Natural pornography was displaced by cackling, panting and ugly porn. The debaters turned their backs on the monster they helped to create, sometimes in anger and indignation, often in silence and indifference. Then came pornography's fascinating double life in the Swedish public domain: increasingly stigmatised and increasingly normalised at the same time. A highly moral public rhetoric has seemingly come to coexist without problems with an increasingly morally dissolute public reality. The 1970s' Left's argument against pornography has long been axiomatic. Swedes are expected to be critical of pornography in the same way, and basically for the same reason, as we are all expected to be opponents of environmental destruction and war. This consensus has been established and strengthened, while pornography and pornographic aesthetics gain an ever-growing place in Swedish daily life: in advertising, in fashion, in the entertainment industry, and in the mainstream media. H&M's corset advertising, cable-TV porn, bobbing quilts in docu-soaps, HBO intercourse on the old state television, and the everywhere and always available multi-mega-sex club – a globalised Sodom and Gomorrah. Neo was wrong. The 1970s was not the porniest decade. Porn has instead accelerated, from the 1990s onwards. Almost no one (except the industrious publisher Carl-Michael Edenborg) likes porn. Yet pornography has never been more present and available than it is now. What do you call a moral system based on keeping a strict separation between what you say and what you do? You call it Victorianism.