Wanted: global tightrope artists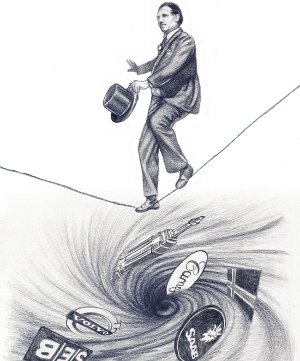 The Napoleon of Wall Street, the financier JP Morgan, supposedly had an engraved plaque in his office that said "Pense moult, parle peu, écris rien." Think much, speak little, write nothing.
Be productive but don't stick out, as we say in Sweden. With its near-death experience of 2008-09, the financial industry is retreating from the extravagances of the credit expansion and back to this discreet motto. The banking system will never be the same again in our lifetime, and nor will the world. 
In 1971, the investment bank Morgan Stanley had 3,500 employees, and Goldman Sachs about 1,300. In 2006, at the peak of a quarter century of capitalist madness, those figures were 55,000 and
30,000: an army of financial advisors to governments, foundations, companies and wealthy private individuals, an army that in its boldest hours generated a tenth of US GDP and almost half its corporate profits.
High salaries and bonuses meant that the...