The Crisis Package is Too Little, Too Late for Schools
The knowledge results are deteriorating at a rapid pace, and the causes are not primarily technical or of an easily remedied nature, but rather have to do with basic attitudes. What is needed is rather a revival than a package of measures.
Swedish teachers are more satisfied with their work efforts than colleagues in other OECD countries, and Swedish students are happier in school than their foreign peers, while the grading level rises – but the actual results deteriorate. If one was more conspiratorially minded, one might speak of a conspiracy in which teachers, students and parents have all agreed that the most important thing in school is to be happy and have fun and not to impose tough requirements. Parents want, of course, for things to go well for the children, but success is defined clearly as high grades, rather than intellectual development.
There are obvious exceptions in the form of well-maintained schools and genuinely curious and pupils that are willing to work but, unfortunately, these are more and more becoming the exception. This is happening not only in depressed areas of social exclusion, but also in neighbourhoods that, on paper, are far more favourable environments. Schleicher dryly notes that poor Chinese do better than prosperous Swedes. Poor facilities are a limited problem compared with a bad attitude.
A few days after Schleicher's clear language, a teacher wrote on the Internet that he had grown tired of the situation and thought of taking a harder line. Henceforth, his lessons would start on time, assignments would come in on the scheduled date and student's arguments such as 'I cannot' would be met with indifference. This spread like wildfire and got many positive comments. Others wondered how on earth it could become such highly acclaimed news that someone would start to engage in certainties. It is easy to agree with that, but sceptics ignore the fact that late starts to lessons and general chaos is the number one hallmark of the Swedish school system. Nowhere will students be late for lessons as often as in Sweden. Mess, fuss and chatter destroy the working environment. It was a long time ago that you could use a pointer as the symbol of a Swedish school; now it is earmuffs.
It is not inevitable that this development will continue and that results will become even worse. But change requires three basic conditions: high expectations, order and truth. Without these, other reforms are doomed to fail.
The Swedish school debate is far too little about what students should do and about their own responsibility. From the outset, it must be clear that learning is a reciprocal process, where the student's own contribution is an essential prerequisite. To not be crystal clear about this with children, and not least parents, is to create a false picture of reality. We are providing opportunities, take advantage of them! – this is the only offering a serious and truthful school can provide.
That in turn requires that the school is seen as a workplace, where there should be calm and peace in which to work. Again, the signal language must be clear from the outset – and individual troublemakers must never be allowed to take whole classes hostage.
And so the truth: grade-inflation is a poison that creates a distorted picture of reality and destroys the whole idea of feedback. If the signals are that everything is going well, why worry or work harder?
Is that enough for a renaissance? I wonder. But one has to start somewhere.
Populärt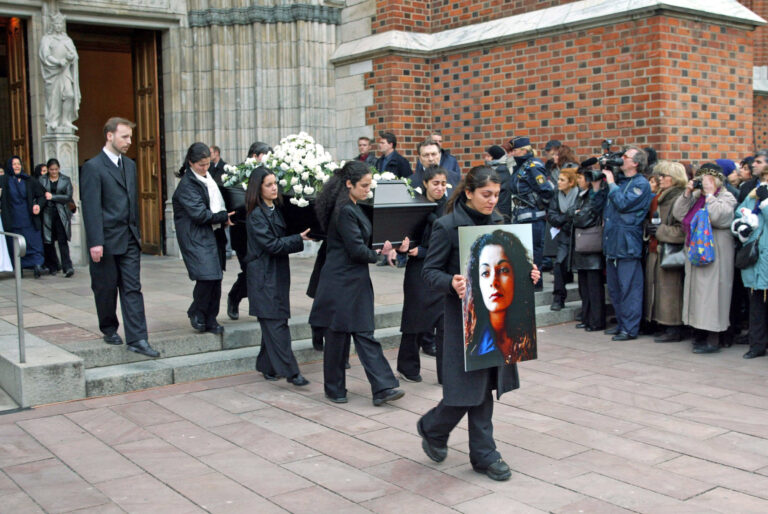 Första skottet gick in i pannan, det andra i käken. Hon slapp höra hur fadern upprepade ordet "hora" när han sköt. Obduktionen visade att den första kulan avslutade Fadime Sahindals 26-åriga liv.
Martin Hårdstedt's fine article on the Battle of Waterloo (page 20), of course, leaves you wanting more, and there is no shortage of opportunities for those who want to go further and learn more about the great battle, what preceded it, its consequences, and how it took place. The British Army's museum's special website ( HYPERLINK "http://www.nam.ac.uk/waterloo200" www.nam.ac.uk/waterloo200) is a gold mine, which, among other things, contains a detailed inventory of all the exhibitions and events organised during the memorial year.
More new books have already come out on the theme of Waterloo than anyone has time to read. I myself have got great benefit from Bernard Cornwell's Waterloo. The History of the Four Days, Three Armies and the Three Battles (William Collins, 2014). Cornwell usually writes historical novels of the kind that are not liable to win him the Nobel Prize, and this is his first non-fiction book. The result is a compelling, objective and comprehensible presentation. Cornwell knows his subject well and he does not spare the details. But neither does he overpower the reader with them, giving an overview and understanding in an exemplary manner.
PJ Anders Linder
VD och chefredaktör i Axess.